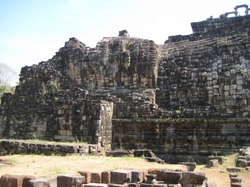 My most recent trip to Angkor took me for the first time into the fabulous Baphuon temple. I'd never been because the temple had been closed for years, convalescing from war, you might say. In the 1960s, the Baphuon had been near collapse. Restorers disassembled much of it, laying out 300,000 pieces of stone for eventual reconstruction. After war closed in on Angkor in 1970, records showing which stone went where were lost. So when peace returned, putting it back together turned out to be an enormous puzzle challenge. The job was only completed in 2011. Now the Baphuon is fully open again and you can climb the great three-tiered pyramid and admire its many bas reliefs.
The temple was built by King Udayadityavarman II as his state temple around the year 1060 AD. If you visit, you should imagine it without certain nearby things--without the Bayon, without Angkor Thom's walls and gates, without Angkor Wat. All of these came much later. In its glory days, the Baphuon dominated the great capital city.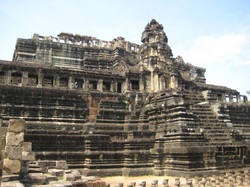 The Baphuon shows that the temples of Angkor weren't static. They weren't just built and left in their original role and state, but sometimes were modified as history progressed and religious beliefs changed. The temple was originally Hindu, dedicated to Shiva. But at some point several centuries later it was rededicated as a Buddhist place of worship. When you reach the back of the temple, you'll see the most amazing sight--a reclining Buddha that is part of the very fabric of the temple, extending across the west side for about 70 meters. The evidence suggests the image was built from the rubble of a now-missing central tower and other original elements of the temple (if you look closely you can see that some of the stones have decorative carving on them). The holy image is so large that it's hard to take in--what you see in the photo at the top shows the Lord Buddha's reclining head at center left.
All in all, the Baphuon is quite a sight. Don't miss if it you visit.