INTERVIEWS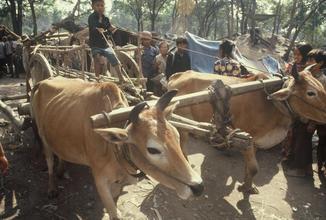 Khmer boy drives an oxcart in border refugee camp.
"
In Border Temples, Shared History, Acceptance
," interviewed by Sophat Soeung of Voice of America television, published November 7, 2013
"
Exploring Cambodia's Lost Temples
," interviewed by host Tom Ashbrook on "On Point," National Public Radio, September 24, 2010
"Sdok Kok Thom, ou quand les pierres parlent..."
in Le Petit Journal, September 23, 2010 (French language)
------------------------------
Questions and Answers
John Burgess, author of 'Stories in Stone: The Sdok Kok Thom Inscription & the Enigma of Khmer History,' explains how the book came about.


Q:
Most people have never heard of Sdok Kok Thom. How did it remain hidden so long?
A:
For many years the temple was very hard to reach. There was no road to it--you could drive to within a kilometer or so, and then you had to walk, along rice paddy dikes and forest paths. And you had to know it was out there. There were no signs or anything directing you. Things changed starting in 1979, during the refugee crisis that followed the overthrow of the Khmer Rouge in Cambodia. Many thousands of refugee Cambodians came to the area by foot, by bicycle and by oxcart, in search of food, medicine and safety. They camped out in the forest lands around the temple, and so many of them came to know about it.
Foreign aid agencies built roads to the camp to deliver relief goods. Quite a few journalists arrived. So the temple began to be known to foreigners as well. But it was still not the kind of place where you'd go as a casual visitor. It was in a conflict zone.
---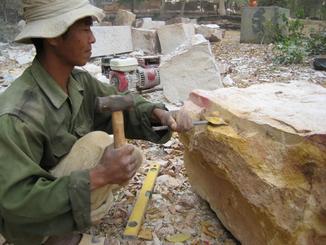 Mason shapes new stones for Sdok Kok Thom.
But today the Cambodian war is long over and the area is perfectly safe. A good paved road runs right to the temple. There's a parking lot. Most of the visitors are Thais, so it's becoming better known in their country. It's not really on the circuit for foreign tourists, however. Just a few of them who are doing the road trip between Bangkok and Siem Reap stop off at the temple, and they have to arrange their own transportation for the final few kilometers.
Q.
Those are reasons why the temple's not known. But why haven't more people heard of the inscription?
A.
Certainly the experts know about it. In fact, you could say that it's a sort of a holy text for the modern-day priesthood of scholars who study Khmer history. But, like with the temple, there were a lot of barriers to it becoming widely known. For a long time, the full text was available only in its two original ancient languages and in French. You had to go to a specialty library. And if you did read it, it wasn't exactly easy to digest. I guess that this was a big part of what got me interested in this project--a great story that had never been told outside of a very limited circle of people.
Q.
You say in the book that it was first the temple that you knew, and then the inscription.
A.
Yes. I was a part-time correspondent for
The Washington Post
and
Time
magazine in those days. My wife Karen was an official at the
Office of the U.N. High Commissioner for Refugees
. We were both deeply involved in the refugee crisis, she in Bangkok on resettlement and policy issues, me at the border reporting stories. One day I was walking alone along a trail near one of the big border camps and suddenly there it was--a sandstone temple shrouded in tropical foliage. No one was there. It was a thrilling experience.
Q
. And you had a period when you considered Sdok Kok Thom to be 'your' temple.
A.
I'll own up to that. One of my daughters read an early draft of the book and said that on that point I didn't sound much different from some old French colonialist. What right did I have to think the place was mine? But I did feel that way. I sometimes functioned as guide and interpreter for visiting staff correspondents. I remember taking some of them to the temple and then standing back and feeling an owner's welling of pride as they let off the requisite oohs and aahs on seeing the place, 'my' place. I suppose it was partly that the temple was almost always deserted when I went. Some kind of covetous feeling concerning abandoned property took hold in me.
But those days are over. Go to Sdok Kok Thom today and you're probably not going to be alone. It's hardly crowded but at any given time during the day you're likely to find a Buddhist monk, a guide or two and local people selling bottled water and souvenirs. Some school children might arrive in a bus, some adult sight-seers who've driven up in their own cars for a look, or officials doing an outing from a conference nearby. And of course, there are reconstruction workers, including Cambodian masons who create replacement parts out of new sandstone.
In Newport, Rhode Island, there's a fabulous Gilded Age mansion called
The Breakers
--70 rooms, imported marble, Italian renaissance style, the works. It was built by Cornelius Vanderbilt as a summer home in his heyday as a captain of industry. In subsequent generations, the place became way too expensive to maintain as a private residence and it came to be owned and operated as a landmark by a preservation society. But Vanderbilt descendants retained rights to use rooms on the upper floor. Pretty much everything else is open to the public. So when I visit Sdok Kok Thom, maybe I feel a little bit like those Vanderbilts descendants do--I have a special relationship with the place but it's not going to be exclusive any more.
Q.
How did you go about researching the book?
A:
The first thing was to read the inscription. I went on the Internet and found references to the translation of
Dr. Chhany Sak-Humphry
. I emailed her, and she very kindly right away mailed me, the old-fashioned way, a copy of her book from Hawaii, where she teaches at the University of Hawaii. I remember how excited I was when her package arrived at my house in Washington. I read and reread the translation. I really did get a feeling of hearing a voice from the past. An individual's voice. That's what's always been missing for me when I visit Khmer temples.
Q.
And after that?
A.
Well, to start, I then did what everyone does these days. I spent more time poking around on the Internet. I was able to find sites with material about the temple, including the full text of 19th Century French academic journals. Google Earth initially had only low-resolution photos of the area, so you couldn't really make out the temple. Then one day I checked and found that a full-resolution image has been substituted. There it was--inner compound, outer wall, and holy reservoir to the east. Again, very exciting.
The Internet also helped speed up the old-fashioned gumshoe work that goes into a book. For instance, the English Wikipedia has a relatively brief article on Étienne Aymonier, the inscription's first translator. But the French Wiki has a pretty detailed one. In one of its footnotes, I found reference to an unpublished memoir by Aymonier. I placed a message on a Wiki discussion page asking the article's author where I might find those memoirs. He referred me to a professor named Pierre Singaravelou, who referred me to an Aymonier descendant named Bernard Kessler, resident of a village south of Paris called Mignerette. Kessler was born the year that his great uncle died, 1929, so he never knew him, but he had become a repository of personal effects of the man.
My daughter Sarah and I went to visit him and his wife Lieselotte. The Kesslers were incredibly gracious hosts. They make their lives in a 12th century castle. They bought the place when it was a shambles---when we were there, they were on year fifteen of restoration work. Much of it they carried out with their own hands.
Chateau de la Planchette
is now a charming moated place, with period furnishings and a resident flock of ducks. The Kesslers rent it out for wedding parties and such but mostly they just like to live there. Sarah and I were overnight guests in the castle, beneficiaries of three wonderful French meals and the Kesslers' company. In between, Mr. Kessler laid out a large collection of letters, photographs and the unpublished memoir. It was a trove of information, just the kind of thing I was looking for.
A few days later, in a secure room in the French National Library in Paris, I had the thrill of examining the rubbings that Aymonier had made at Sdok Kok Thom in 1883.
Q.
But was it all as fun as that?
A.
Well, no. I started out naïve. I imagined that in every archive and library I visited I would be shown to some back room where there would be piles of yellowing documents, tied up in ribbon in the old filing style. Original sources, examined by no one before me. I found that often those documents simply don't exist. Things that would seem to us like priceless historical records are in their own day thrown out with the trash. But quite a lot of people did go to bat for me to find those things that did survive. I was pleasantly surprised to find that you can email libraries all over the world telling them what you're looking for and that more often than not, you'll get a reply within a few days from someone who's taken the trouble to find out what's in that particular collection. Isabelle Poujol, the
photothèque
at the library of the
French School of Asian Studies (EFEO)
in Paris, emailed me two 1959 photos that took my breath away. They were images of how one part of the temple had looked before the place was pillaged for sculpture in the '60s and '70s. I had been despairing of ever finding such pictures.
So yes, there was a lot of slogging. My daughter Katharine took part in that, making a couple of trips to the British Library in London to copy a rare article in the collection there.
Often I would devote hours or days into some new lead and come up with nothing. But other times the work would pay off. I spent quite a few days at the Library of Congress, which has copies or microfilms of a lot of the journals and obscure French books that aren't online. I would put in little slips of paper requesting particular things, then sit down to see what came back. People there were very helpful and every so often their efforts gave me another one of those eureka moments. I remember the day I was sitting at a table going through a history book that Aymonier had written late in his life. I couldn't find anything about Sdok Kok Thom, but then there it was--a footnote in which Aymonier complained in rather exasperated terms about the French colonial administration and how no one in it had thought to claim Sdok Kok Thom for Cambodia when a new border with Siam was demarcated in 1907. I had to restrain myself from cheering out loud.
Q:
And what about in the field, at the temple?
A:
Oh, that was fabulous. I hadn't seen the temple in almost thirty years when I went back in 2009. There I was, in the presence of a thousand years of history and this time I knew a lot of that history, I wasn't just communing with a ruin. But still I spent a lot of time wandering around by myself, just soaking the place in. I tried to imagine some of the people who had passed through this place over the course of its history, who had made their lives here. One day I got up before dawn one day to go out to see the place at sunrise. I wanted the soft light of early day for photography, but I also wanted to experience the place as the early-rising people of the Eleventh Century had.
And I spent some time standing in the small northeast corner chamber of the inner courtyard, where Aymonier found the inscription stone, standing on a stone pedestal. And in the central chamber, where Sadashiva performed his rites.
But of course I wasn't always alone. One day I tagged along with a local man, Kancharup Champasook, who'd found a new calling as a guide. He was truly excellent at getting visiting school kids engaged in the history of the place. Sadly he died some months after I was there. Another day, the Buddhist priest in residence, Luang Poh Suwan Kanthathamo, welcomed me into his sanctuary and described his life next door to the great temple.
And at the local school, I became friends with two English teachers, Thanawat Samrankit and Nipon Prompilai, who introduced me to people in the communities near the temple.There's hope among people there that the temple will turn into a major attraction and bring in some more development and jobs. My book was seen as helping in that, I think. But I didn't see the universally friendly welcome I got as mercenary in any way. It was old-fashioned rural hospitality. In any case, the temple has already generated a few jobs. When you drive to the temple in the morning, you may come across a local man or woman headed in that direction on a motorbike, maybe with a freezer full of ice pops for sale to those students who'll be arriving on field trips later in the day.
Q.
You say in the book that more than a million foreigners are visiting Angkor every year. Just a few years ago, wasn't the place entirely off limits?
A.
As of 2012, it's actually closer to 2 million a year. Communist forces captured Angkor in 1970 after the Vietnam war engulfed Cambodia. The curtain went down on foreign visitors. There were a few exceptions. The Khmer Rouge actually opened the place up to tourists briefly late in their reign--a very small number of people, most of them journalists, I think, went in for guided tours. The Khmer Rouge were overthrown in 1979. The Heng Samrin government, which replaced them, let a few journalists go to Angkor. I was one of them, in 1980. It was a great relief to see that the war damage was small--though any damage to a place like Angkor is awful. But there was already looting going that sadly continued for many years, doing much more harm than bombs and bullets.
Angkor didn't really open up for real until the mid-1990s, after a UN-sponsored election helped bring a formal end to the Cambodian war. But even then, it remained a somewhat adventurous place to visit. Flights, hotels, etc. were all minimal and Khmer Rouge were still out in the jungle. But gradually development has taken hold. To the point that Siem Reap, the provincial capital where Angkor visitors stay, has turned into one huge construction site, with hotel after hotel going up.
Q.
So Angkor is getting its due in the world's eye.
A.
Finally. In Western countries, we grow up knowing about ancient Rome and Egypt. We know how people there dressed, what they built, who some of the great personalities were. But Angkor has remained largely off the radar in the basic cultural consciousness of most of the world's people, even though it's got an equally impressive historical pedigree and importance. That's changing at last.
* * *
---