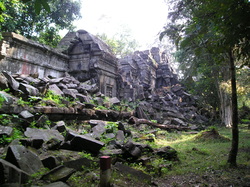 One of the big questions about the construction of Angkor is how the stones were transported to the building sites from quarries in the Kulen hills to the north. For years there's been a theory that the blocks took a rather round-about route, moving by water southward to the Tonle Sap, Cambodia's great lake, then along the lake's shoreline, then up the Siem Reap River (against the current, no less) to Angkor.
Now comes
a study
that concludes the route may have been much more direct, and made no use of the lake. Geologist Estuo Uchida of Japan's Waseda University, co-author of the study, says that analysis of satellite images suggests the presence of an ancient canal that connected Kulen quarries pretty much straight to the Angkor area.
Over the years, quite a lot of academic brainpower has gone into trying to answer questions of which stones came from where. Have a look at the website of the
Cambodia Stone Project
, a fascinating consortium of experts from many countries of the world. Their job requires both a lot of field research and skill at theorizing and connecting dots. There are no records from the era to tell how stones were transported the long distances, and the temples' bas reliefs of daily life aren't much help, including only
a few scenes that appear to show construction workers.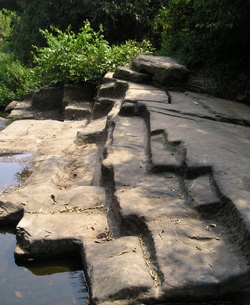 The skills of Khmer sculptors and master masons were remarkable, but I've always been moved too by the handiwork of the less celebrated people who birthed the stones. A great place to see that is a humble little quarry on the banks of a stream near Beng Mealea temple. Over the centuries, the flow of water softened sharp edges, but you can still see what resembles a ghostly staircase leading down to the stream, where block after block were removed in sequence. Here and there individual chisel strokes are visible.
Probably the blocks were floated downstream to Beng Mealea to take their allotted places as the great monument rose in the 12th Century.
The quarry's easy to reach if you'd like to take a look. About a kilometer past Beng Mealea on the road to Koh Ker, you come to a bridge across the stream. The quarry's right beneath it.